A Better Movie: "A Better Life"
I want to highly recommend a movie: "A Better Life". Anyone who fights for freedom should see it. It's a simple, yet profound story and even if you're not pro-capitalism but have any interest in immigration issues, child rearing, or the future of this country, you'll want to see it and discuss with people you respect.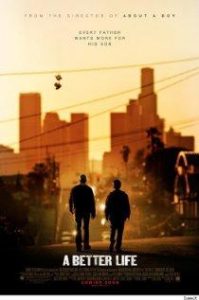 Plot spoilers to follow.
It's about an illegal immigrant (Carlos) raising his teenage son in the East Los Angeles barrio. Typical for someone who's made it across the border illegally, he's not well educated and has little money. Also typical for someone who views the world honestly, he knows that he has to work hard to support himself, respects other people's property, enjoys his accomplishments, and has a benevolent view of his fellow man.
On the other hand, his foul mouthed son (Luis), currently attending a virtual prison/gang breeding ground known as high school in the area, places no such value on industriousness and looks down upon his father's work as a landscape laborer. While doing his best to encourage his boy to make good choices, Carlos is a patient and solid role model. In a heroic risk to improve their lot, Carlos takes the entrepreneurial plunge again (you have to count anyone risking everything for a better life by crossing the Mexican/U.S. Border as entrepreneurial) when he borrows money from his sister to buy out his employer's truck, tools and customer list. Carlos' character is really challenged when the truck and tools are stolen by another illegal, illustrating the trapped nature of their existence since he cannot go to the law. It's painful but inspirational to see the slow and sure maturation of Luis because of the behavioral example his father sets. Throughout their disappointment and struggle, the father never doubts himself – in America – to make his life (and his son's) better through hard work.
The writing is quite good and the understated acting by Demián Bichir (Carlos) makes the movie. Many viewers might have a hard time separating the human story from the obvious political implications and I don't think you should. "A Better Life" may not change your mind about the immigration debate but it will make you think about the topic with better context and appreciation.