Another Chance at Hope? The Gradual Self-Education of the American Citizen
Is there time for education to work?
It's being called a historic election because of the grassroots influence of the Tea Party. Commentators have struggled to define this movement but all agree it impacted the outcome. Some say the Tea Party was the cause of the Democrats losing control of the House of Representatives. Others contend it caused the Republicans to not pick up more seats in the Senate. They're both right; but more importantly, the Tea Party has given us a chance to rediscover what it means to be a citizen of the greatest country in history. It's given us a chance at genuine hope.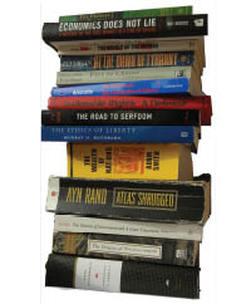 Despite being demonized by the mainstream media and establishment politicians, the Tea Party movement is the honest, gut-level response of many Americans. Ordinary people are now cringing at the corruption, demagoguery, and incompetence of Washington. While it wasn't created by anyone in the major parties, Republicans—who often pay lip service to "smaller government"—jumped on the bandwagon.
Americans not usually involved in politics saw the polar opposite of smaller government. Exponential spending, debt growth, and the quasi-nationalization of several industries got their attention. And in the spirit of those brethren from 1773, they were moved to action. They have taken it upon themselves to learn about the political process and how government power is used today—and to begin wielding it themselves.
The edification has just begun, as evidenced by terms like "it's halftime" or the "end of the beginning." It may take many election cycles to get on the path to more freedom. It's a self-education because they're suspicious of traditional media, politicians, the major parties, the way issues have been framed, and even their own civics instruction.
These people are now actually reading the Declaration of Independence, the Constitution, and the Federalist Papers.
But what exactly have these awakened citizens learned? They've learned that much of what passes as law these days is something their legislators have not read, is often self-contradictory, and resembles nothing close to constitutional government. They've learned that most current representatives are not accountable to their constituents. Witness the number of congressmen who, once they saw citizen's disgust with bailouts and cram-downs, shut their town hall meetings.
Lawmakers finally learned the electorate does not want Obamacare and resents the sleazy way in which it became law. If there was a consistent theme, it was that if you were in a close election and you voted for the healthcare overhaul, you were going to lose. Some powerful Democrats who were aligned with this legislation lost their seats.
They've also learned money doesn't buy elections—at least, money spent explicitly on the campaigns. Meg Whitman, Carly Fiorina, and Linda McMahon collectively spent hundreds of millions of their own money only to go down against officeholders who've long doled out tax dollars and promises to win favor with voters.
Another key lesson is that for "Tea Party candidates," the more pro-capitalism they were, the better they did. Several Republicans, especially in high profile Senate races, made the mistake of thinking that the Tea Party and independents were in line with their socially conservative agenda. But they often found themselves losing to bumbling Democrats.
The public naturally refocuses on economic issues during tough times. However, candidates who think this movement is only about pocketbooks would do well to count the Atlas Shruggedreferences and Gadsden flags, not only at the rallies but more broadly throughout the culture. The emerging realization is that wealth redistribution is not only impractical and colossally wasteful, but also immoral. Voters are looking for pro-freedom candidates who recognize their individual rights to their minds, their bodies, and their pocketbooks.
Campaigns all across the country featured free-market candidates, surprising incumbents who've milked protectionism and the support of big labor. Notably, anti-immigration candidates who had general appeal for the Tea Party did poorly as well, underscoring the fact that this election was about freedom, not fear. The American voter is beginning to realize that mutual exchange happens when both sides of the trade agree. Having the coercive power of government decide how, when, and at what price such trades occur only destroys jobs, wealth, and general prosperity.
There are several lessons the newly energized citizen has yet to grasp. The most important one is only now coming into focus: the fundamental roleof government. It's being hinted at, but when Tea Partiers say they want smaller government, they don't agree on how small or even what that means. As a nation, we're still evading the fact that we continue to want and expect handouts for ourselves but believe that every other constituency needs to suck it up. The entitlement mentality is awful and something we need to do away with—until it comes to "what I'm entitled to."
Part of that disconnect is because Americans are just barely beginning to understand how massive and intrusive their government has become. But the deeper issue that must be learned is that force is anti-freedom, that using democratic institutions and pressuring our government to take from others what we have not earned is a recipe for social cannibalism and the end of America as we know it. The Tea Party movement is just getting started on the lesson of how far we've strayed from our constitutional republic and the actual moral foundations that support it.
Time? Yes, there's time but barely and for only one kind of tea party.
This article was originally published in and is reprinted here with permission from Liberty Ink Journal (www.libertyinkjournal.com).